Reformer Pilates
One of the many benefits of joining our Premium Membership, is unlimited access to Reformer Pilates sessions.
Our Reformer Pilates exercise sessions use a bed-like frame with a flat platform that rolls back and forth on wheels. These Reformer bed exercises are run under the direction of our qualified instructors, with up to 12 participants.
The Reformer bed enables the individual to target small muscle groups, which help form long and lean muscles. The Reformer bed also allows the instructor and individuals to complete more exercises than traditional base mat Pilates by allowing a better range of movements.
Due to its adjustable nature, the facilitating instructor can provide a full-body workout for beginners and intermediates by adjusting the springs of the Reformer beds.
To access the amazing health benefits of Reformer Pilates, join our Premium Membership Here.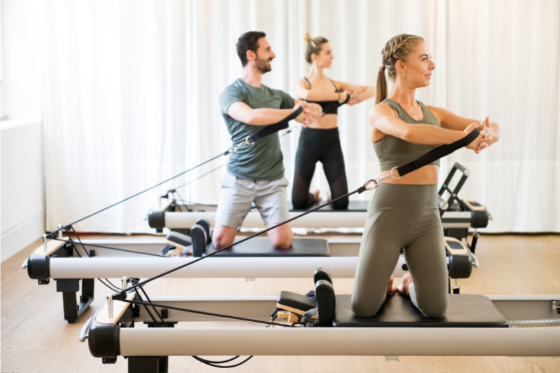 Reformer Pilates will benefit you in ways such as:

Building strength and toning muscles.

Increasing Flexibility.

Improving Posture.

Increasing coordination.

Providing a full-body workout.